Nordkapp: History and Myth
North Cape and the Lofoten Islands a reality that makes dreams pale.
A unique path that will allow us to admire the beauties of Scandinavian and Norwegian nature, the Barent Sea, the fjords and an arctic atmosphere with magical shades.
A journey between past and present, between nature and culture, between the ancient lands of the Vikings and lonely streets with legendary charm.
The Lofoten archipelago, considered a real paradise on earth, offers a landscape of majestic mountains, deep fjords, colonies of squawking seabirds and long beaches, but also picturesque villages with its Rorbu – old fishermen's cottages – where you can enjoy the flat Lutefisk traditional based on cod and local cod.
Duration: 24 days/ 23 nights.
Mileage: About 8.500.
Arrival/Departure: Verona/Munich.
Level: hard.
Min/Max participants: 12/24.
Hotel: 3 / 4 and typical.
Highlights: Gothenburg, Stockholm, Rovaniemi, Karasjok, Caponord, Storslett, Svolvaer, Lofoten Islands, Trondheim, Molde, Lom.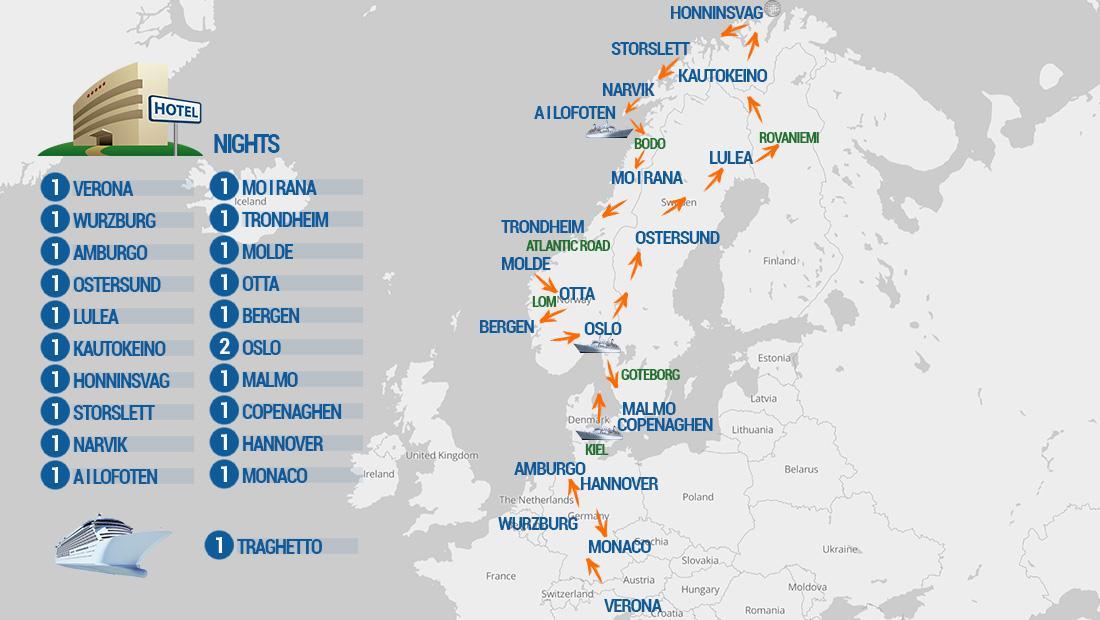 Day 1 - Verona / Wurzburg, Km 670
Transfer by motorway to Wurzburg, with a pleasant stop for lunch on the lake in Fussen. Arrival in the late afternoon, hotel accommodation and city walk along the Main River.
Day 2 - Wurzburg / Hamburg, Km 509
Quick transfer to Hamburg with a lunch stop in Kassel, visit to the wonderful Wilhelmshöhe park with Löwenburg castle. Arrival in Hamburg in the late afternoon.
Day 3 - Hamburg / Kiel (ferry) / Gothenburg, Km 100
We will reach Kiel, from where we will board the ferry to Gothenburg.
Day 4 - Gothenburg / Stockholm, Km 500
Arrival in Gothenburg in the morning and transfer to Stockholm.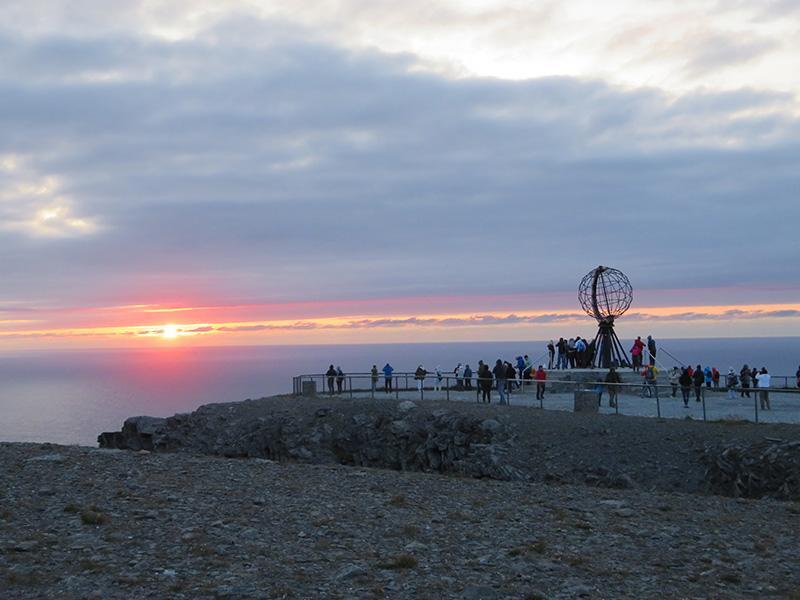 Free day to visit the Swedish capital.
Day 6 - Stockholm / Umea, Km 638
From Stockholm we will move north, visiting an unusual museum of American cars and motorcycles that deserves a stop. We will spend the night in Umea, the city of birches.
Day 7 - Umea / Rovaniemi, Km 509
From Umea, along the coast, we will enter Finland to reach Rovaniemi, the home of Santa Claus.
Day 8 - Rovaniemi / Karasjok, Km 450
On this day we will travel through the forest and mountain areas of Finland and enter Norway to reach Karasjok, the capital of the Sami.
Day 9 - Karasjok / Nordkapp, Km 300
An exciting day, we will cross Lapland, the kingdom of the Sami, and then go further and further north. We will ride our motorcycles in the infinite space of the Arctic Plateau as far as North Kapp. After visiting the tourist center with exhibitions and movies we will return to Honningsvag to spend the night.
Day 10 - Nordkapp / Storslett, Km 377
We will leave Honningsvag to reach Storslett along winding coastal roads. During the day we will visit Alta with its cave graffiti museum.
Day 11 - Storslett / Svolvaer, Km 500
Transfer day along the coast towards Svolvaer, the capital of the Lofoten islands, where we will spend the night.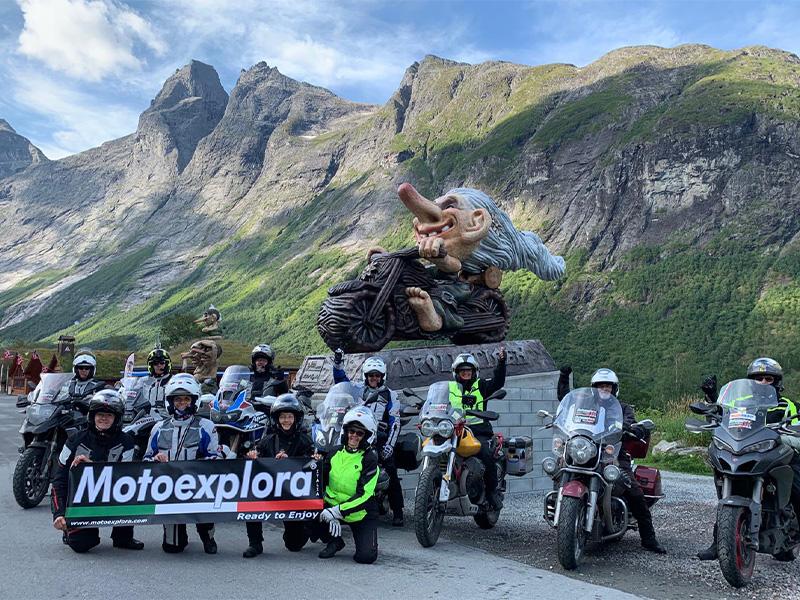 Day 12 - Svolvaer / A I Lofoten, Km 130
From Svolvaer we will go south crossing the fantastic Lofoten Islands in all their length, visiting small fishing villages up to the most extreme point, where we will arrive in the evening.
Day 13 - To I Lofoten / Bodo / Mosjoen, Km 316
The early morning ferry, with 3.15 hours of crossing, will take us to Bodo, where we will stop to visit the city. From here we will continue to Mosjoen, crossing a plateau of extraordinary beauty, which will lead us to the Norwegian Arctic Circle.
Day 14 - Mosjoen / Trondheim, 390 km
Transfer along the E6, the road that crosses all of Norway, towards Trondheim, where we will arrive in the afternoon to visit the city.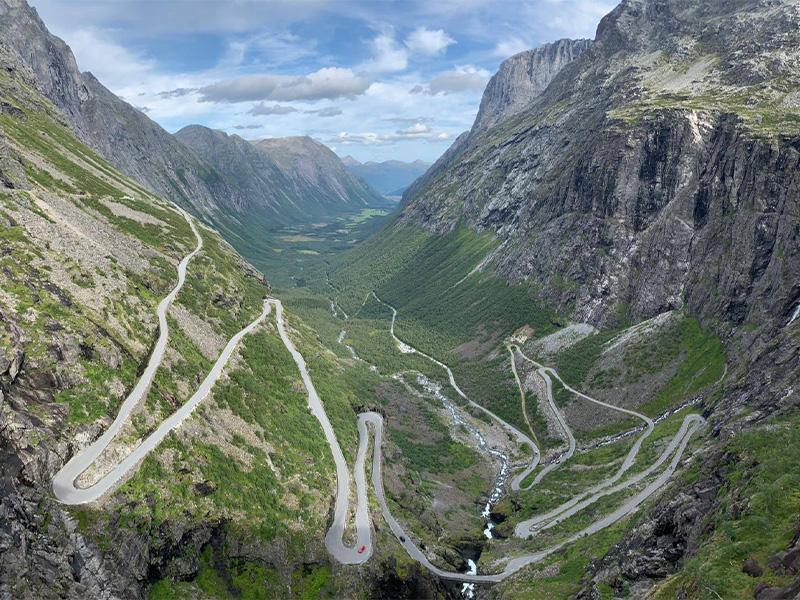 Day 15 - Trondheim / Molde, Km 304
Leaving Trondheim, today we will face a legendary stage of the journey because we will travel the Atlanterhavsveien, considered one of the most beautiful and exciting roads in the world.
Day 16 - Molde / Lom, Km 260
We will leave Molde and after a short ferry ride we will go to the discovery of the Trollstigen and the Geiranger fjord. In the afternoon we will go to Lom, where we will visit the beautiful StavKirke.
Day 17 - Lom / Bergen, Km 370
We will drive on one of the most beautiful scenic roads in Norway, the Sognefjellet, along which we will stop at various viewpoints. We will continue to the charming city of Bergen where we will immerse ourselves in a unique atmosphere.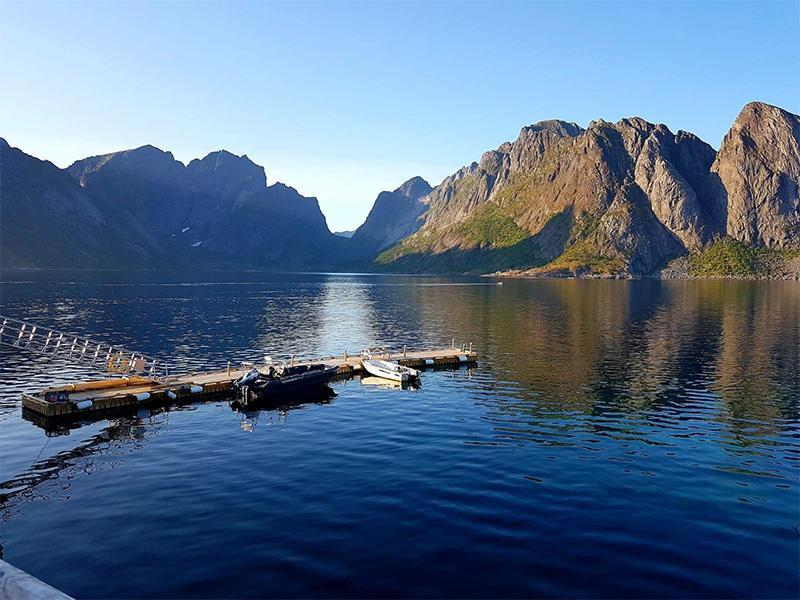 Day 18 - Bergen / Oslo, Km 486
Starting from Bergen we will cross Norway from West to East in mountainous areas, between national parks that in winter become ideal places for snow sports. Driving along the Rv 7 road through Hallingdal and arriving in Oslo in the evening is very pleasant.
Free day to visit the Norwegian capital.
Day 20 - Oslo / Malmo, Km 600
Departure from Oslo to Malmö where we will arrive in the afternoon. Free evening to visit the city.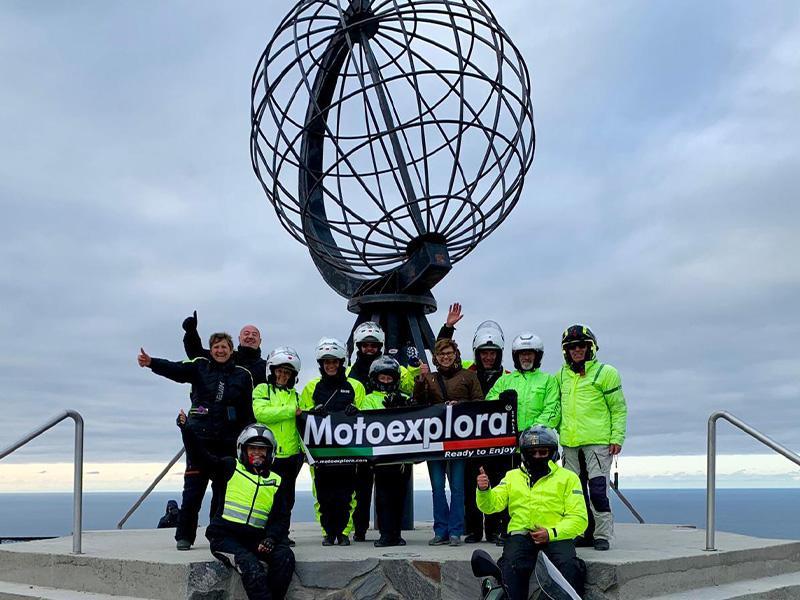 Day 21 - Malmo / Copenhagen, Km 41
From Malmö we will cross the Øresund canal on the bridge that connects Sweden to Denmark with an artificial island connected to a tunnel, until we reach Copenhagen. We will arrive at the hotel in the middle of the morning, where we will leave our luggage, to go and visit the city.
Day 22 - Copenhagen / Hannover, Km 635
This day of our trip will take us back to Germany with an overnight stop in Hanover.
Day 23 - Hannover / Munich, Km 630
Last day of travel with fast transfer to Munich, where in the evening, we will all have dinner together in a historic brewery for goodbyes.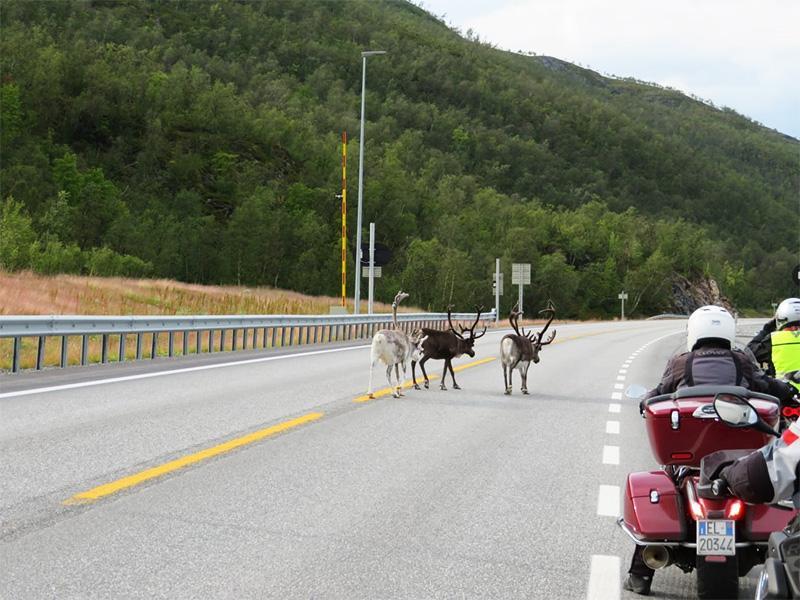 Insurance policy "Motoexplora senza pensieri" with:
Trip cancellation;
Theft or damage to luggage;
Medical assistance;
23 breakfasts;
10 dinners;
24 overnight stays in a double or single room in excellent facilities;
Round trip ferry in double cabin;
Tour leader in motorbike;
Support vehicle (with a minimum of 10 participants);
Souvenir & gadgets by Motoexplora;
Fuel;
Motorway tolls;
Tips;
Drinks with meals;
Entrance tickets and guided visits to museums or archaeological sites;
Registration fee: € 50.00 per person;
All extras of a personal nature and anything not expressly indicated in the "included services" item;
Do you want to receive more information or participate in the trip? Fill out the form below, or contact us by phone or on WhatsApp.
N.B. The program may be subject to changes at any time and without notice, due to force majeure or its improvement.