From the Mediterranean to the Black Sea
A motorcycle trip through 5 states, all interesting to discover, wonderful roads such as the Transfagarasan which is the highest asphalted road in Romania and connects Transylvania with Wallachia, climbs to over 2000 meters of altitude and has been defined by "Top Gear "(Famous English TV program) the most beautiful road in the world, along the way there are the Balea lake and the Poienari castle, the residence of Vlad Dracul. Bulgaria with the fascinating Varna overlooking the Black Sea, the return to Romania to discover the Transalpina, certainly a road to be experienced by motorbike. Big cities like Budapest and Sofia and the wonderful monasteries of Bucovina in Romania to experience an unforgettable and pleasant motorcycle trip.
Budapest, Cluj Napoca, Viseu de Sus, Sibiu, Transfagarasan, Poenari, Varna, Plovdiv, Bachkovo, Sofia, Craiova, Alba Julia, Seghedino, Zagreb.
Duration: 17 giorni / 16 notti.
Mileage: about 4.200 km.
Arrival/Departure: Padova/Fiume.
Level: medium.
Min/Max participants: 16/24.
Hotel: 3 / 4 / 5 and typical.
Highlights: Budapest, Cluj Napoca, Viseu de Sus, Sibiu, Transfagarasan, Poenari, Varna, Plovdiv, Bachkovo, Sofia, Craiova, Alba Julia, Seghedino, Zagreb.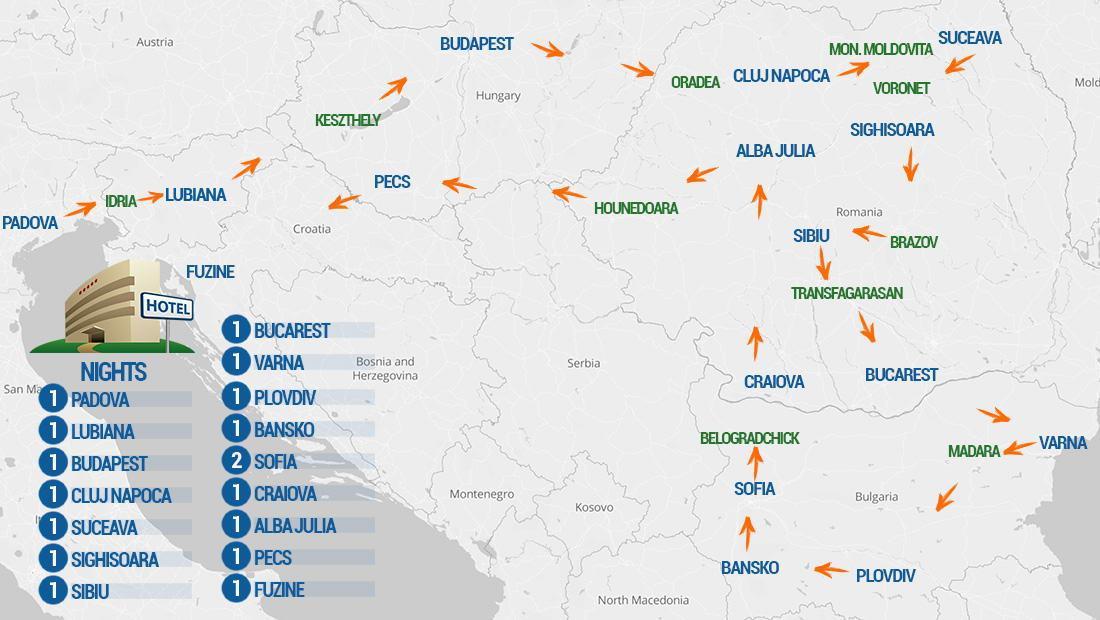 Departure from Padua and / or Trieste, transfer stage towards Ljubljana km. 343
From Ljubljana transfer to Budapest, on a fast route, arrival in the afternoon and visit the city km. 463
From Budapest we will reach Cluj Napoca which is the main city of Transylvania.
Departure for Vişeu de Sus via Sighetu Marmației 247 km.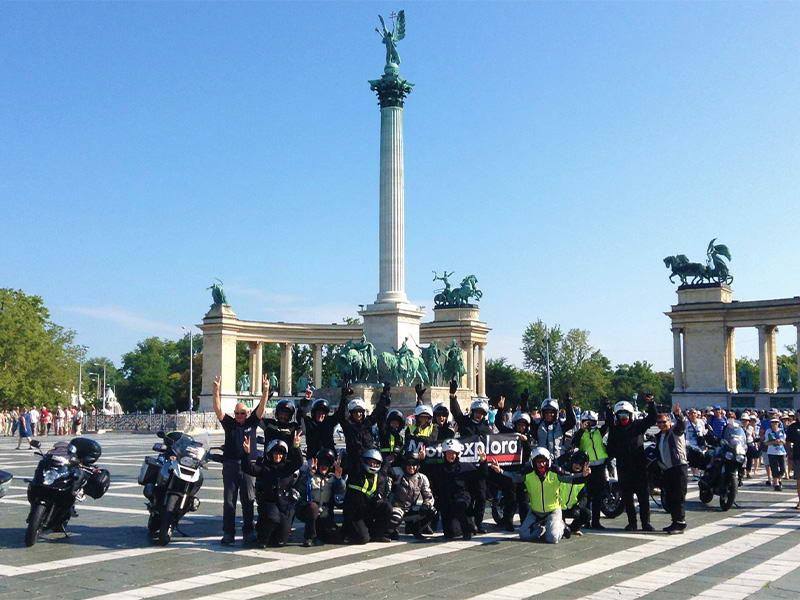 After breakfast, departure for Bucovina, the area called the "land of 2000 monasteries". In the evening, arrival in Bacau. Km 370
Departure for Sibiu, km 324
An exciting day, we will cross the famous Transfagarasan, defined among the most beautiful roads in the world, we will cross the Vidraru lake and we will visit the Poenari fortress, which belonged to the famous Count Dracula, in the evening arrival in Bucharest km. 315
Destination Black Sea in Bulgaria, we will reach the tourist Varna km. 263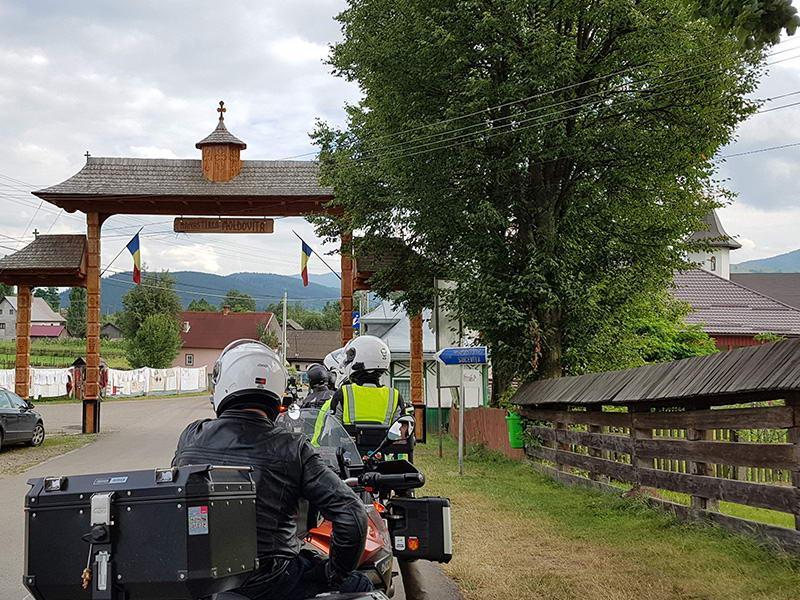 From Varna we will move to Plovdiv which is the second Bulgarian city by population and size. The Old Town of Plovdiv is one of the oldest contemporary European cities in Troy and Mikena. Km. 359
From Plovdiv we will go south until we reach the Bachkovo monastery, we will continue through the fascinating devil's throats all to be experienced by motorbike in the evening arrival in Bansko km. 260
Today we will reach Sofia: the third oldest capital in Europe after Athens and Rome.
Relaxing day to discover Sofia.
We will leave Bulgaria to return to Romania, arriving in Craiova in the evening 260 km
An intense day of emotions crossing the Transalpina, certainly among the most beautiful roads in Europe, arriving in Alba Julia in the evening. Km. 315
Destination Szeged, the third most important city in Hungary, 344 km
From Seghedino to Zagreb in Coazia km.420
Insurance policy "Motoexplora senza pensieri" with:
Trip cancellation;
Theft or damage to luggage;
Medical assistance;
16 breakfasts;
4 dinners;
16 overnight stays in a double or single room in excellent facilities;
Tour leader in motorbike;
Support vehicle (with a minimum of 10 participants);
Souvenir & gadgets by Motoexplora;
Fuel;
Motorway tolls;
Tips;
Drinks with meals;
Entrance tickets and guided visits to museums or archaeological sites;
Registration fee: € 50.00 per person;
All extras of a personal nature and anything not expressly indicated in the "included services" item;
Do you want to receive more information or participate in the trip? Fill out the form below, or contact us by phone or on WhatsApp.
N.B. The program may be subject to changes at any time and without notice, due to force majeure or its improvement.