Sicily: the Land of the Sun
"How many have not at least dreamed of knowing her? Few or none; so much is the fame of its beauty universal, so much the memory of it goes together with the history of the most widespread civilizations "(TCI) …" nation rather than region and moreover a plural nation, so many are the different identities "(Bufalino) …" Italy without Sicily leaves no image in the spirit: only here is the key to everything ". (Goethe)… There are hundreds of quotes from poets, storytellers and travelers who exalt and tell about Sicily, an infinite island full of dreams and charm.
Telling about Sicily, its streets, its history, a millenary culture, lived on board a motorbike represents a set of emotions. Describing the colors, scents, traditions of a land full of charm lead to a unique dream that every motorcyclist should live. Each trip is like a story that becomes a common thread between the different destinations, the paths and encounters with original people will make it clear that every Sicilian is a world unto itself, always with the great desire to tell and tell. Our journey starts from Palermo to take us around the island in eight days with a route that will make us discover roads such as the SS 185 which connects the Tyrrhenian Sea to Etna, passing through wonderful villages such as Novara di Sicilia where it will seem to return back in time, the bell towers of its many churches that dominate the town and the cheerful and serene shouting of its people will take us back to the days of celebration. The view of Etna, majestic and fascinating, with roads full of curves and hairpin bends that alternate between dense woods and lunar lava landscapes. The tourist Taormina with the trendy shops and the surprising Acireale. The discovery of Sicilian Baroque with cities of art such as Noto and Modica. We will experience unique routes such as the road that gave life to the legendary "Targa Florio". Agrigento with its temples that dominate the Mediterranean sea with their view. A journey that will also touch the main places marked by the most brutal mafia massacres, to make people understand and understand the suffering of those who believed and believe in legality. A motorcycle trip in Sicily is not a simple path of roads but a dive into the heart of a different world that is sometimes difficult to understand, made up of contradictions and simple ways of living.
This is what we at Motoexplora try to convey to those who decide to travel with us. Trying to always give the best to make people understand the thousands of traditions of our land. Our greatest satisfaction is observing the shining eyes of those who go away, never leaving behind a simple goodbye but a more heartfelt goodbye
Duration: 8 days / 7 nights.
Mileage: about 1.300.
Arrival/Departure: Palermo / Palermo.
Level: easy.
Min/Max partecipants: 12/30.
Hotel: 4 & typical.
Hightlights: Palermo, Monreale, Trapani, Agrigento, Ragusa, Syracuse, Taormina, Etna.
Arrival in Palermo with the ferry from Civitavecchia at 08.30 and immediately we will enter the Madonie with its wonderful streets full of history. A day full of curves, breathtaking views and many unique villages. In the late afternoon, I arrive in Campogrande.
Departure at 09.00 with destination the SS 185, defined among the most beautiful roads in Italy both for its conformation and for the unique scenery with a view of Mount Etna. We will visit the symbolic places of the famous film "the Godfather" to reach Acireale and its sea in the afternoon.
Departure at 09.00 we will begin our day of motorbike with an almond granita that will lead us to the discovery of Etna we will travel all its streets, we will go to the discovery of its craters for a day full of emotions.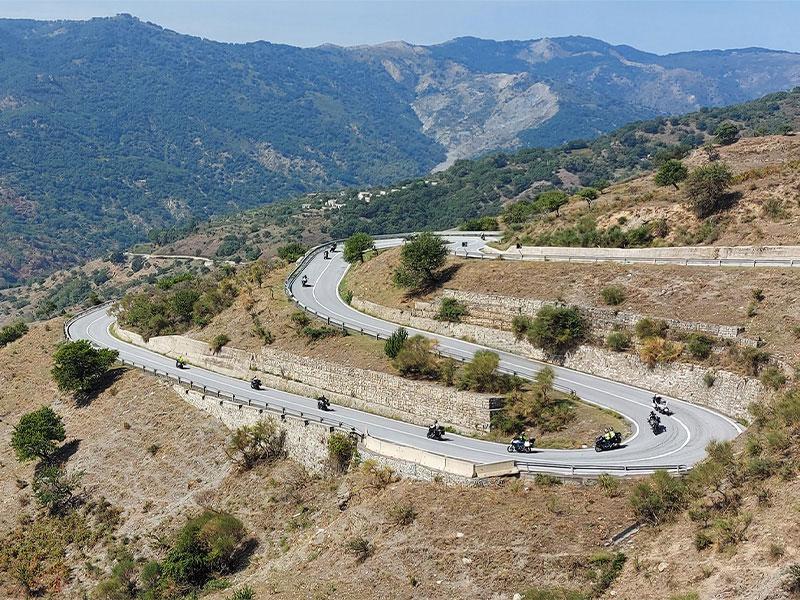 Today the Baroque valley, the Val di Noto, will be waiting for us. We will pass through Buccheri, we will visit Marzamemi, Capo Spero to reach the beautiful Modica in the late afternoon.
Relaxing day to discover Scicli, Punta Secca and Ragusa Ibla in the early afternoon return to Modica to enjoy its baroque beauty.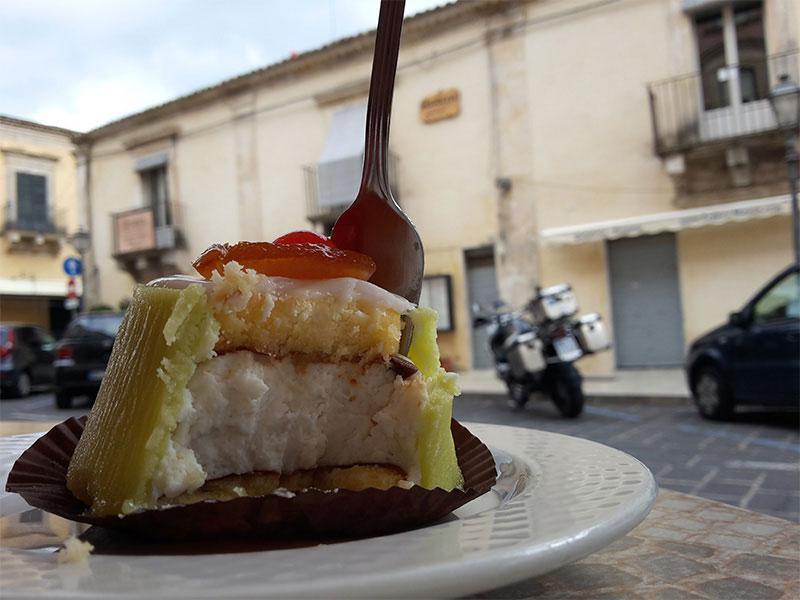 We will leave Modica to reach Caltagirone and its ceramics, Agrigento and its temples, Caltabellotta city of peace and in the evening we will reach Sambuca di Sicilia.
Today we will head south for a visit to the splendid Marsala salt pans, then we will continue towards Salemi to cross a splendid road dotted with crops and vineyards to discover the lands where many of the most renowned Sicilian wines are born.
Day 8 - approximately 240 km
Last day of our trip to Sicily … we will leave Sambuca to head to Palazzo Adriano, location of the Oscar-winning film "new cinema paradise", subsequently Corleone and the Bourbon residence of Ficuzza, the cannoli of Piana degli Albanesi, we will pass through Monreale to visit the wonderful cathedral . We will accompany you to the port of Palermo for boarding and return to their offices.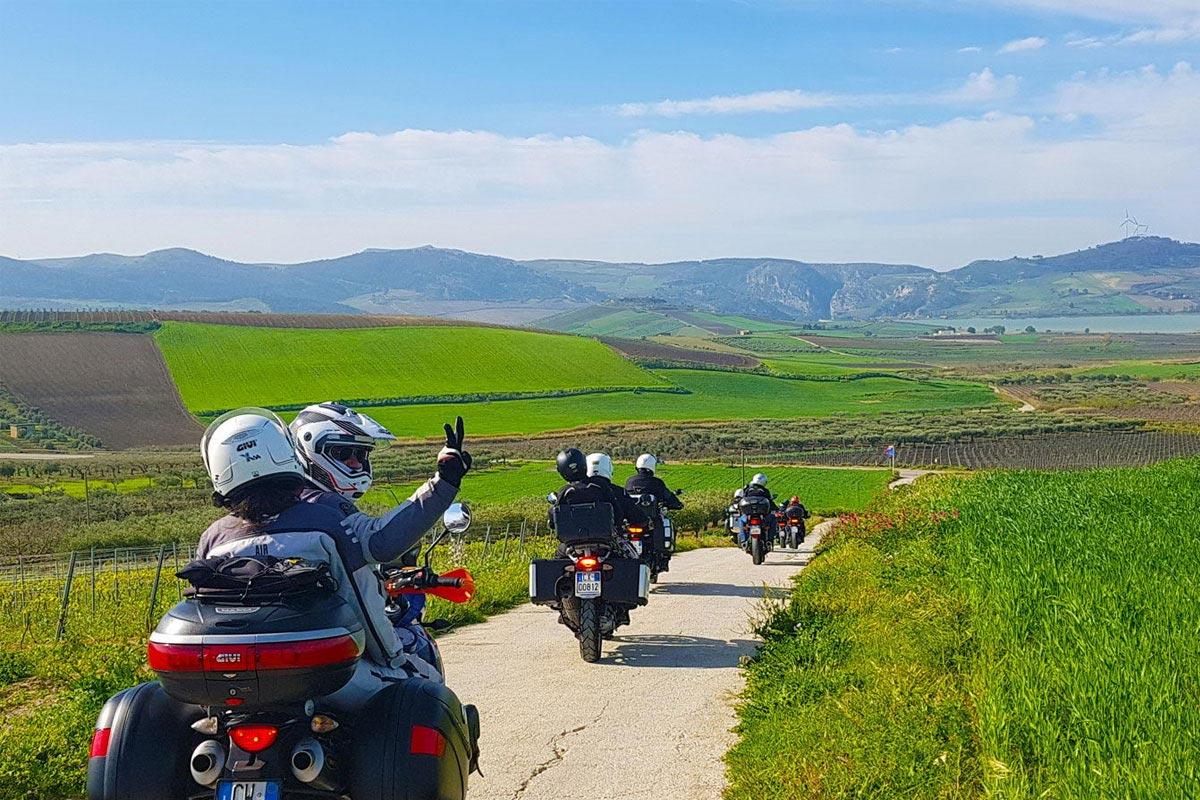 Insurance policy "Motoexplora senza pensieri" with:
Trip cancellation;
Theft or damage to luggage;
Medical assistance;
7 breakfasts;
7 dinners;
7 overnight stays in a double or single room in excellent facilities;
Tour leader in motorbike;
Support vehicle (with a minimum of 20 participants);
Souvenir & gadgets by Motoexplora;
Fuel;
Motorway tolls;
Tips;
Drinks with meals;
Entrance tickets and guided visits to museums or archaeological sites;
Registration fee: € 50.00 per person;
All extras of a personal nature and anything not expressly indicated in the "included services" item;
Do you want to receive more information or participate in the trip? Fill out the form below, or contact us by phone or on WhatsApp.
N.B. The program may be subject to changes at any time and without notice, due to force majeure or its improvement.