Spain - Andalusia: Flamenco Road
The title of the trip perfectly anticipates everything that we will let you discover on the bikes. The hottest and most passionate region of southern / western Europe, Andalusia. Its colors and scents of a unique and fascinating world. The Spanish nightlife will overwhelm you with what are the traditional passions and that is: flamenco, tapas, culture. Passing through La Mancha, we will breathe the atmosphere together and experience the places that are the scene of the deeds of the dreamy knight Don Quixote. Few places like Andalusia combine passion and folklore with history and architecture in the best possible way. From the mosques and Moorish palaces of Cordoba to Granada, from golden Seville to Valencia, known as the city of arts and sciences which also includes futuristic structures.
Duration: 15 days / 14 nights.
Mileage: about 2.600.
Arrival/Departure: Genoa / Civitavecchia / Barcelona.
Level: medium.
Min/Max partecipants: 12/30.
Hotel: 4 & typical.
Hightlights: Barcelona, Teruel, Albacete, Cordoba, Seville, Granada, Almeria, Murcia, Valencia, Tarragona.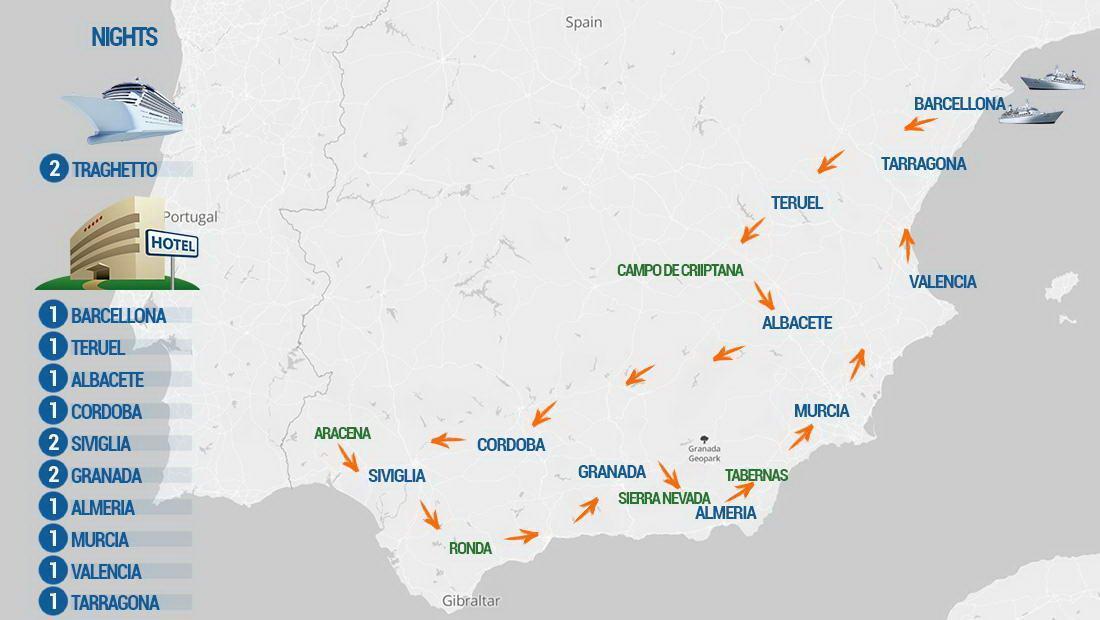 Day 1 - Boarding Genoa / Civitavecchia
Barcelona arrival visit to the city and overnight.
Day 3 - Barcelona / Teruel, 377 km
Teruel declared a World Heritage Site by UNESCO for the characteristic Mudejar architecture of its monuments, especially the towers of San Martin and San Salvador, which, covered with ceramic tiles, recall the ancient minarets and give it a singular oriental aspect.
Day 4 - Teruel / Albacete, 445 km
Leaving Teruel for Albacete, an agricultural city, but first we will discover the beauty of Campo de Criptana with its fantastic windmills that inspired the exploits of Don Quixote.
Day 5 - Albacete / Cordoba, km 411
Leaving La Mancha, here we are in Andalusia, one of its most important cities is Cordoba, a thousand-year-old city, declared a World Heritage Site, is a living legacy of the different cultures that followed one another throughout its history.
Day 6 - Cordoba / Seville, km: 410
A unique day, before stopping in Seville we will go to the discovery of Aracena and Rio tinto, with its famous mines.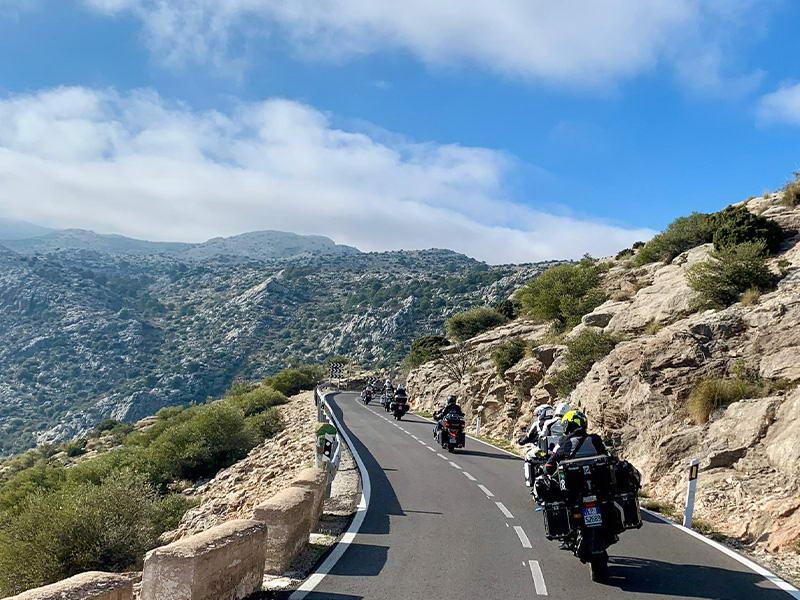 Day 8 - Seville / Granada, 487 km
We will go to the discovery of Ronda, one of those cities that seem to be halfway between legend and reality. Once isolated due to its geographical reality, a city of bullfighters and brigands, the destination of characters who are fascinated by it, such as Ernest Hemingway. then through wonderful roads we will reach Granada.
Day 10 - Granada / Almeria, 239 km
Today we will go to the discovery of the Sierra Nevada, along a spectacular route that will take us up to 2,400 m asl. Later we will continue to Almeria.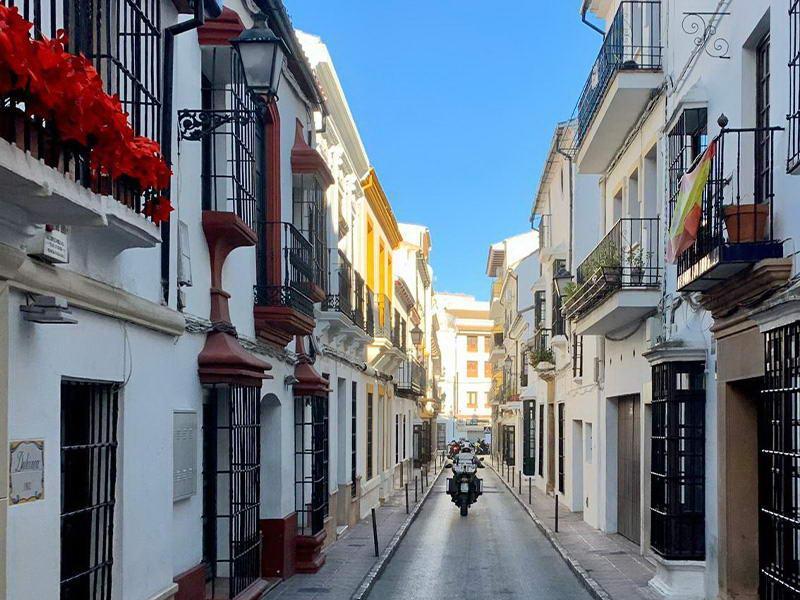 Day 11 - Almeria / Murcia, km 283
Early in the morning destination Tabernas with the famous studios that have seen the most beautiful films of Sergio Leone born, then we will continue to Murcia;
Day 12 - Murcia / Valencia, km: 158
Valencia, one of the most dynamic and interesting cities in Europe, has managed to break the Madrid-Barcelona dualism like no other, becoming the fastest growing destination in all of Spain.
Day 13 - Valencia / Tarragona, km 304
Today we will leave Valencia to head to the Ebro Delta, in the afternoon we will arrive in the ancient Roman city of Tarragona;
Day 14 - Tarragona / Barcelona, 100 km
Transfer day to reach the port of Barcelona and boarding for Italy;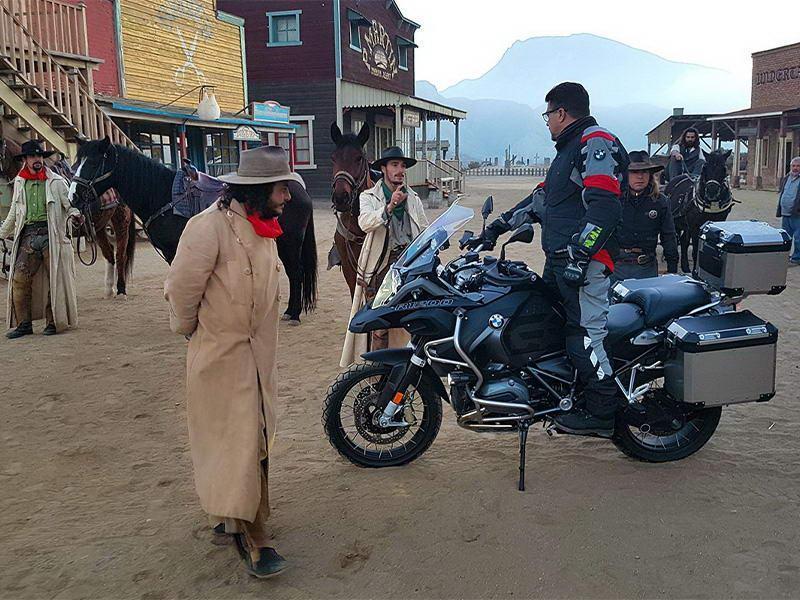 Insurance policy "Motoexplora senza pensieri" with:
Trip cancellation;
Theft or damage to luggage;
Medical assistance;
13 breakfasts;
2 dinners;
12 overnight stays in a double or single room in excellent facilities;
Guided tours to Seville and Granada;
Entrance to the Studios of Tabernas;
Ferry (round trip) Genoa-Barcelona in double cabin;
Tour leader in motorbike;
Support vehicle (with a minimum of 20 participants);
Souvenir & gadgets by Motoexplora;
Fuel;
Motorway tolls;
Tips;
Drinks with meals;
Entrance tickets and guided visits to museums or archaeological sites;
Registration fee: € 50.00 per person;
All extras of a personal nature and anything not expressly indicated in the "included services" item;
Do you want to receive more information or participate in the trip? Fill out the form below, or contact us by phone or on WhatsApp.
N.B. The program may be subject to changes at any time and without notice, due to force majeure or its improvement.