Tunisia: a tea in the Desert - New Year's Eve 2024
Leaning towards Italy on the one hand and with deep roots in the Sahara on the other, Tunisia is the link par excellence between Europe and Africa, between East and West. Characterized since ancient times by the presence of great civilizations, Tunisia was the center of the empire of Carthage, of which popular traditions remain that perpetuate its distant heritage. Prominent historical monuments, such as the Ribat or the great Mosques of Tunis and Kairouan, testify to the first centuries of Arab-Islamic civilization. For a long time a province of the Ottoman Empire, Tunisia also absorbed Turkish influence. Over the course of time, Andalusians, Jews, Italians, Maltese and others have found a welcome here and have enriched Tunisian culture with all the facets of the Mediterranean. Ours is a journey through history, the legendary roads and the wonders of a unique land.
Tunisia is waiting for us to give us an unforgettable New Year!
Duration: 8 days / 7 nights.
Mileage: approx 1.800.
Arrival/Departure: Genova* – Tunisi.
Level: easy.
Hotel: 4 / 5 & typical.
Hightlights: Tunisi, Hammamet, Kairouan, Sbeitla, Gafsa, Tozeur, Douz, Matmata, Tataouine, Monastir.

(*) the optional departure from Civitavecchia and Palermo is subject to request and supplement.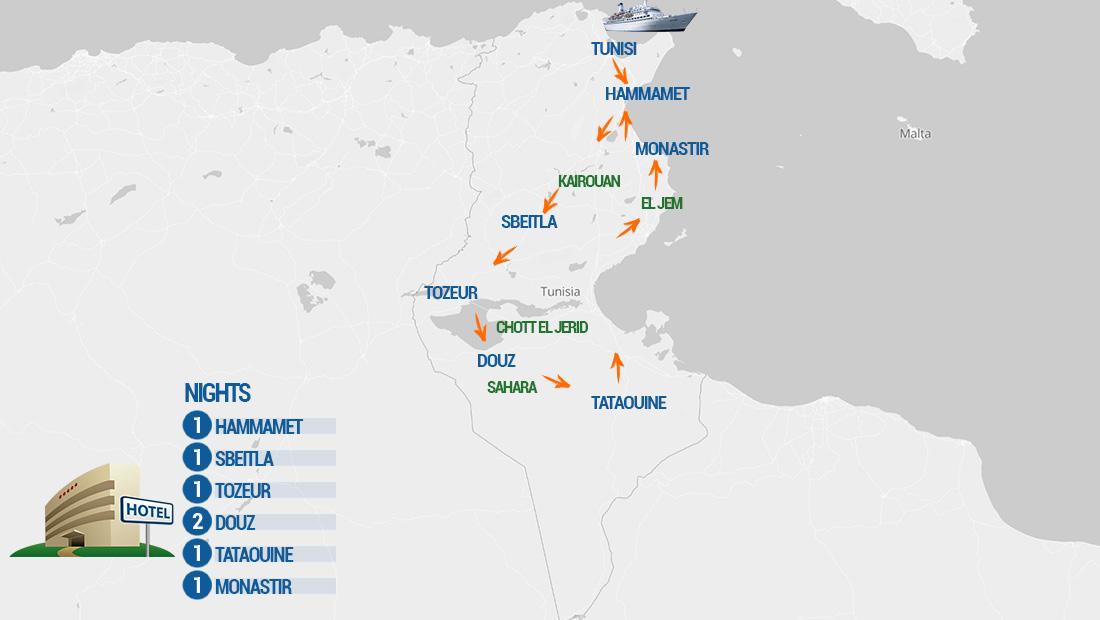 Day 1 - Boarding from Italy
Handling customs procedures and departure for Hammamet (about 50 km) arrival at the hotel at about 8.30 pm, dinner and overnight stay.
Departure from Hammamet at about 09.00 and destination Kairouan, we will discover its ancient medina and the beautiful mosque, lunch and departure for Sbeitla. Visit to the ruins of the ancient Roman city of Sufetula, arrival at the hotel, accommodation and dinner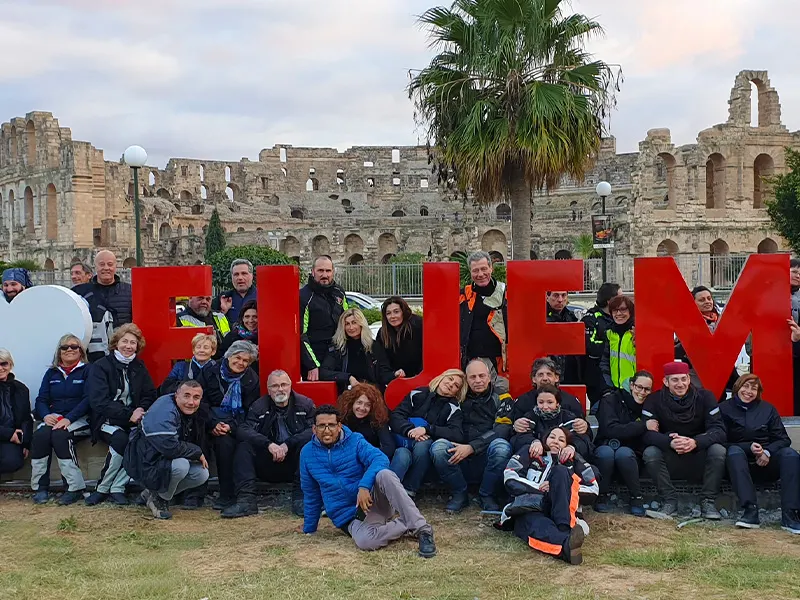 On this day the "real" trip to Tunisia begins, departure at 09.00 with destination the Tamerza waterfall where we will stop for lunch, immediately after we will walk the famous track traced by Rommel, in the evening we will reach Tozeur, dinner and overnight.
at 09.00 From Tozeur, we will go back towards the mountain oasis and we will discover Chebica, which thanks to its exposure to the sun, is known as Qasr el-Shams ("Castle of the Sun" in Arabic). Later we will visit the center of Tozeur, return to the hotel, dinner and overnight.
At 09.00 we will leave Tozeur, with destination Nefta, famous for the realization of a scenography, in the middle of the desert, of the famous film "Star Wars", then we will travel along a road that will skirt the Algerian border and the famous salt lake called Chot El jarid, we will arrive near Douz for lunch, afterwards we will be at the hotel in Douz to prepare to celebrate the arrival of the new year.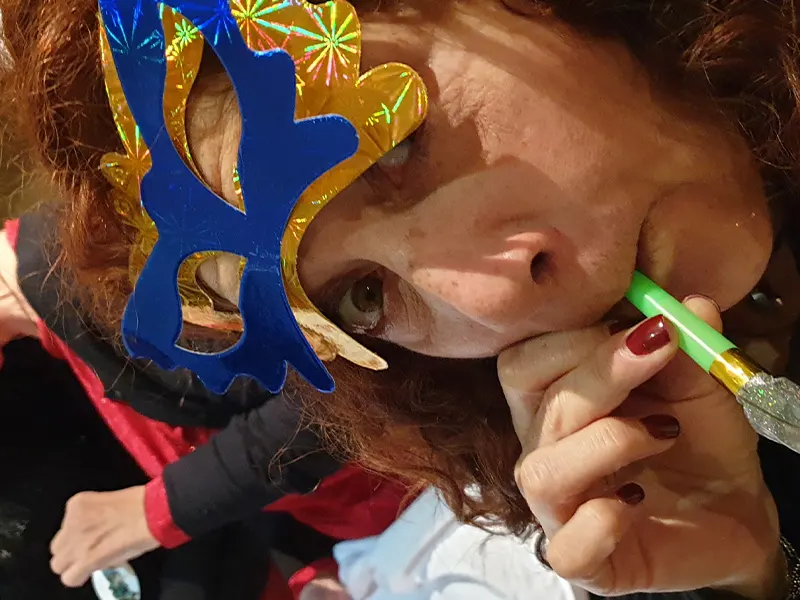 departure at 09.30 to reach the center of Douz, after lunch towards the Sahara. We will leave the motorcycles and on "saddle" camels or on more comfortable buggies we will head in search of an oasis in the desert to pitch our tent! With the help of Bedouin friends we will live a unique experience: we will prepare a fire for cooking under a starry sky! Later return to the hotel.
We will leave Douz for Tataouine. We will pass through Matmata and the small cent of Toujane. In the afternoon we will reach the Chenini area and after admiring a wonderful sunset we will arrive at the hotel for dinner and overnight.
From Tataouine we will go to El Jem, famous for its Roman amphitheater, then we will reach Monastir, dinner and overnight.
At 10.00 we will take a tour of Monastir, then we will take our motorcycles and head for Tunis where boarding is scheduled at 20.30.
In the evening I arrive in Italy.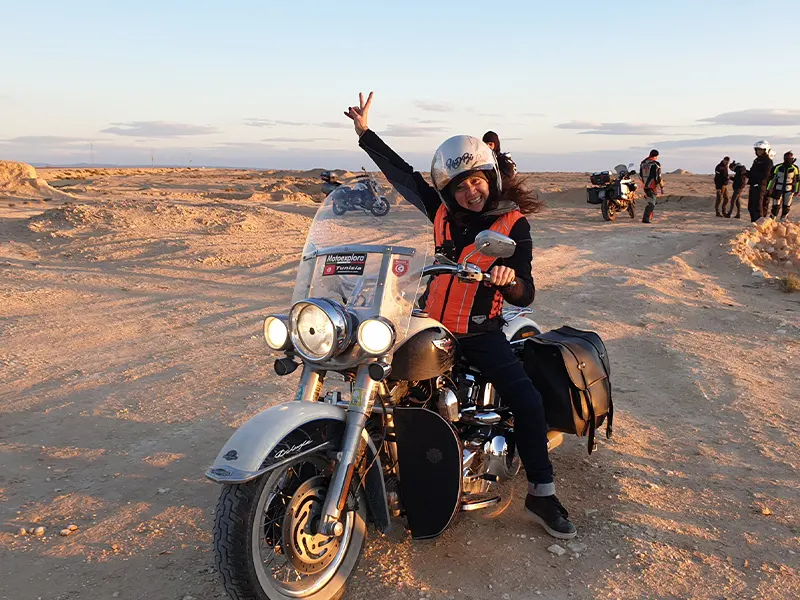 Insurance policy "Motoexplora senza pensieri" with:
Trip cancellation;
Theft or damage to luggage;
Medical assistance;
8 breakfasts;
7 dinners;
New Year's Eve Dinner;
8 nights in a double or single room in excellent facilities;
Round trip ferry in double cabin;
Tunisian coordinator;
Motorcycle tour leader;
Souvenir gadgets by Motoexplora;
Fuel;
Motorway tolls;
Tips;
Drinks with meals;
Entrance tickets and guided visits to museums or archaeological sites;
Registration fee: € 50.00 per person;
All extras of a personal nature and anything not expressly indicated in the "included services" item;
Do you want to receive more information or participate in the trip? Fill out the form below, or contact us by phone or on WhatsApp.
N.B. The program may be subject to changes at any time and without notice, due to force majeure or for its improvement.
For departure to Tunisia it is necessary to have a valid passport for expatriation, with a deadline of at least 3 months from the date of departure.