Turkey: where the sun rises
Turkey the land where the sun rises
Turkey, with ancient ruins rich in history, is also a crossroads of peoples with a deep bond between East and West. Cities like Istanbul with the exotic aromas of its spices and teas, the stalls of its bazaars, its mosques and its infinite history will conquer us. Without forgetting the suggestive coasts of Turkey, bathed by the crystal clear waters of the Mediterranean, the breathtaking rocky landscapes of Cappadocia and the Göreme National Park. All this and much more to experience a motorcycle trip to the east, where the sun rises.
Duration: 16 days / 15 nights.
Mileage: approx 4.200.
Arrival/Departure: Ancona / Igoumenitsa / Ancona.
Level: medium.
Min/Max partecipants: 12/30.
Hotel: 3 / 4 & typical.
Hightlights: Metsovo, Istanbul, Ankara, Cappadocia, Anatolia, Goereme, Selime, Pammukale, Ephesus, Cannakale.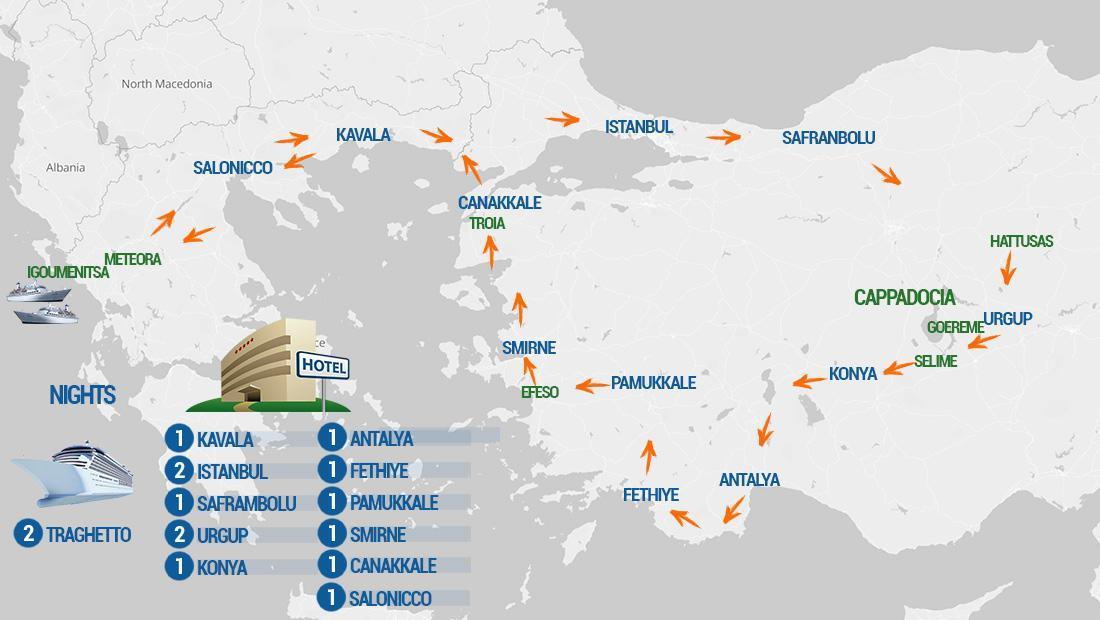 Appointment at the port of Ancona for boarding
Arrival in Igoumenitsa and visit of Metsovo "the enchanted mountain", a wonderful town in the Pindos National Park, one of the most characteristic places in Epirus. Continue to Kavala.
From kavala we head towards the border with Turkey, in the late afternoon we arrive in the city historically known as Byzantium, Constantinople or New Rome: Istanbul 445 km.
Visit to the city of Istanbul, the capital of one of the greatest empires in history and a crossroads of cultures.
From Istanbul we will go to Ankara, the cosmopolitan capital of Turkey whose origins lie in an ancient past but with a modern soul projected into the future.
Direction Cappadocia, region of Anatolia and is perhaps where archeology and nature mix in an extraordinarily balanced and enchanting way. Arrival in Goereme km 548
Goereme, visit the area in the middle of the incredible lunar landscapes of the Cappadocia valley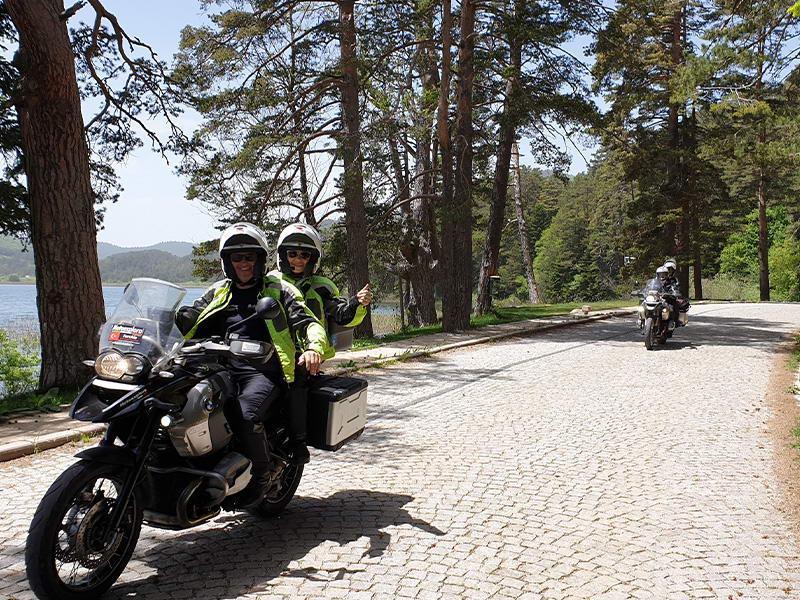 Leaving Goereme we will go to Selime, with its ancient monasteries carved into the rock, and then continue towards Konya km 299
From Konya towards Antalia with its ancient port, passing through Isparta, the city of roses.
Direction Pammukale, which in Turkish means "cotton castle" is a masterpiece of nature, declared a UNESCO World Heritage Site km.240.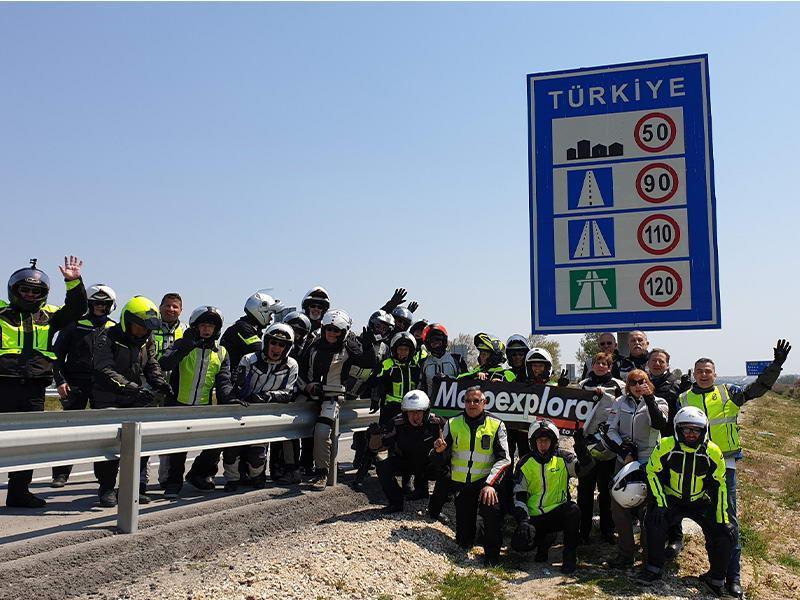 Today we will reach Ephesus: one of the largest Ionian cities in Anatolia. In the evening, arrival in Izmir.
Arrive in Canakkale, on the Dardanelles, and visit the remains of the ancient city of Troy.
We will leave Turkey to return to Greece, arriving in Thessaloniki 486 km in the late afternoon
Destination Patras and embarkation for Italy in the evening.
Day 16 - Return to Ancona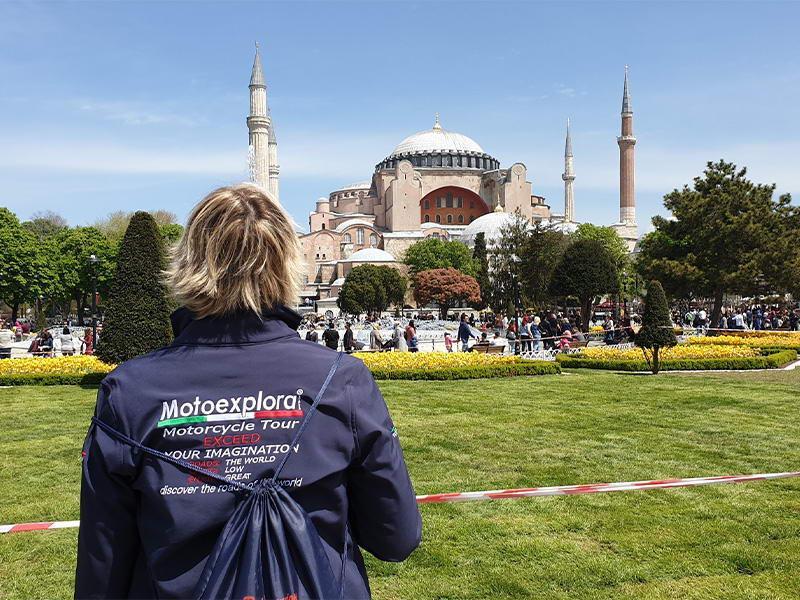 Insurance policy "Motoexplora senza pensieri" with:
Trip cancellation;
Theft or damage to luggage;
Medical assistance;
13 breakfasts;
8 dinners;
13 overnight stays in a double or single room in excellent facilities;
Ferry (round trip) in double cabin;
Tour leader in motorbike;
Guided tours in Istanbul;
Support vehicle (with a minimum of 10 participants);
Souvenir & gadgets by Motoexplora;
Fuel;
Motorway tolls;
Tips;
Drinks with meals;
Entrance tickets and guided visits to museums or archaeological sites;
Registration fee: € 50.00 per person;
All extras of a personal nature and anything not expressly indicated in the "included services" item;
Do you want to receive more information or participate in the trip? Fill out the form below, or contact us by phone or on WhatsApp.
N.B. The program may be subject to changes at any time and without notice, due to force majeure or its improvement.